Is you website ready for all possible devices and browsers?
13.2% of global Internet traffic comes from mobile devices
49% of total local searches are made on mobile devices
26% Internet users access Internet only on their mobile phones
There are more than 1.08 billion adult smartphone users in the world
59% of smartphone users have switched to mobile browsing
Users are browsing your websites on all possible web and mobile browsers; ranging from smartphones, palmtops, iPads, notebooks, tablets and more.
Responsive Web Design – What and Why?
What is Responsive Website Design?
Responsive design is a relatively new paradigm of web development that aims at designing website in such a way that it is compatible across different web browsers and varying screen sizes. As a result of this coding practice, content automatically resizes when you shrink your browser. So, your website looks same in a desktop, laptop, iPad, tablet, Note, iPhone, Android or any other device.
Why Only Responsive for Website Design?
Consumption habits of audiences are undergoing a major shift across the globe. These days most of the web users own a smart phone, tablet or 'Phablet' (phones with large screen that looks like a tablet) and prefer accessing web on their hand-held devices.
As more and more users are browsing your website and checking your product & service offering on their mobiles, your website needs to be mobile friendly and optimized to look great not only on larger screens (desktops), but on smaller screens (smart phones) as well, else you may soon lose out to competition.
Once solution can be creating mobile apps for popular devices and browsers, as designing apps for about 2500 or more devices isn't possible. Doing so, you stand a chance to lose out on users who may not be using a popular device for browsing your website!
Responsive web design is the only solution to make your website look similar and equally appealing across all existing devices and platforms; and the ones that may arrive in future. Moreover, with responsive website design, you just need to create one code that will effortlessly fits all specifications and requirements.
Responsive Web Designing Solutions
Access Technologies has been a pioneer at outsourcing software solutions in India and abroad, and is leading the forte when it comes to offshoring latest technology services that are still nascent for our competitors.
Here is the snapshot of our responsive website design and how it looks in different platforms: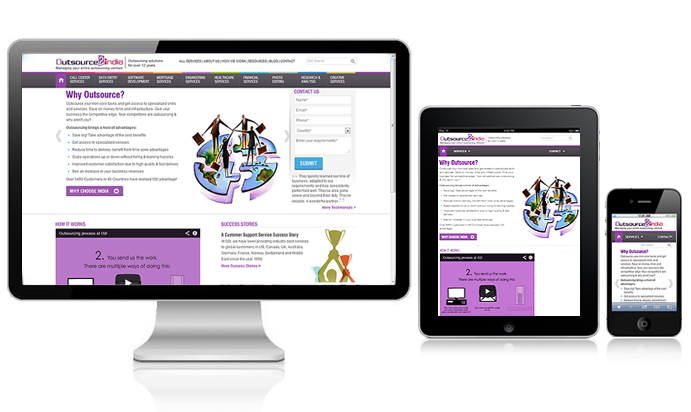 Our website designing solutions comprise the following:
Complete analysis of your website, and detailed planning to make it responsive

Use of 'Media Queries' for responsive design implementation

Compatibility with all mobile & web browsers (Chrome, Mozilla Firefox, Safari, Internet Explorer 9, Opera), and operating systems (IOS, Microsoft and Android)

Compatibility across varying device resolutions (240px X 320px, 320px X 480px, 480px X 768px, 768px X 1000px, 1000px and above)

Mobile compatibility on larger and smaller screens; right from Small Phones, to Smartphones, iPhones, iPad, Kindle, etc.

User-friendly browsing experience with better and smooth navigations

Better zoom-in and zoom-out

Shorter loading time for responsive sites

No loss of functionality or content
Advantages of Our Responsive Designing Services
Responsive website designing has manifold benefits both for you and the end-user, these are:
No need to build different apps or sites for multiple devices and resolutions available in the market

No need for costly IOS and Android based apps, and mobile sites

Single site that works seamlessly across any platform being used by the user for browsing

A flexible mobile web solution that resizes and adapts as per user's platform

Smooth, hassle-free and fluid user navigation (for touch-screen devices as well)

User-friendly coding practice that is effective not only for present range of devices but will also adapt as per the futuristic devices

Enhanced chances of conversion for mobile users as your website is optimized for smaller screens as well

Users will get the same benefits and browsing experience even if they switch their devices

Faster technical delivery with steady navigation and visual experience
Outsource Responsive Web Design to India
In this age of instant boredom when users don't bat an eyelid before switching preferences, you can't afford to give your users a reason to move out to your competitors. User's experience is paramount, outsource responsive web designing services to Access Technologies, and gift your users a consistent browsing experience on all mobile and web devices.